EM-360 NMR Spectrometer Refresh Program
Our Refresh Program ensures that you enjoy continued instrument use for two more decades—or longer—by implementing new technologies that will provide performance rivaling that of a brand new system.

 

It's almost like a "reset button" for the EM-360.

 

Below is a breakdown of the program and an explanation of its perks: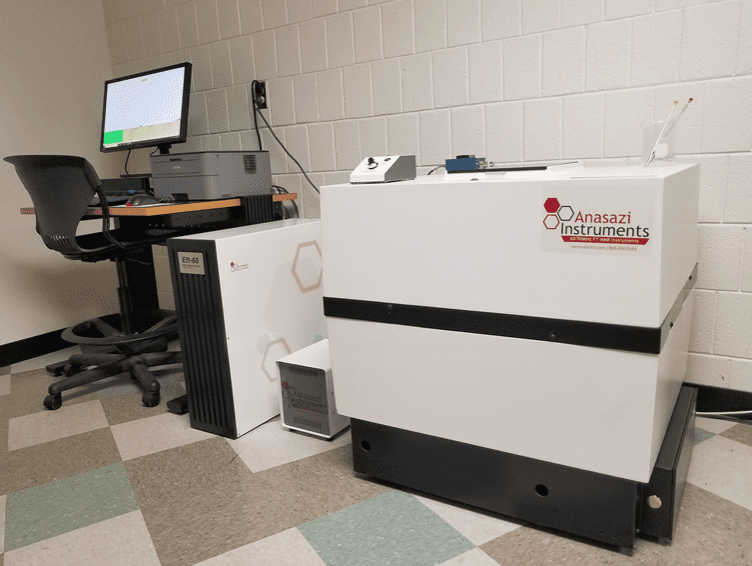 What We Take

What You Get

Used EM-360 Magnet

Refurbished magnet checked out to new specifications (FWHM ≤ 0.25 Hz), includes:

improved thermal insulation, yielding consistent chemical shifts and sharp peaks

Anasazi developed magnet temperature controller

Improved thermal control (+/- 0.01 degrees F)

new internal air lines and independent, local air source, eliminating the use of valves and providing reliable sample control

new probe with ideal spin capability

new color scheme (see picture below)

Spectrometer and DPPA

New spectrometer complete with the following:

USB interface

modern power supply

new graphic panels

new, more power-efficient dual power preamplifier (DPPA)

All the above components configured, optimized, and tested for functionality

Old data station and monitor

Brand new data station running Windows 10, which includes:

Newest version of PNMR with user-friendly

 

interface and touch screen capability

Newest version of NUTS complete with macros for automatic data processing (great for new instrument users)
Why should I consider this program?
This refresh program satisfies those users who wish to extend the life of their instrument, improve performance, and see great results for years to come.  The upgrade will afford users the following:
Optimal magnet performance

Refurbished magnets meet the same factory performance requirements as brand new units

(FWHM ≤ 0.25 Hz) before going out the door

Improved system lifespan from new magnet temperature controller unit

New components aid in performance and longevity

Up-to-date spectrometer

USB Interface yields compatibility with new computers

Improved reliability due to new power supply technology

New DPPA

Latest software features

PNMR

Touch-screen capabilities

Large library of pulse programs

Faster shimming

Easy-to-run maintenance programs (improved prep and suprep routines no longer require spin speed adjustments)

NUTS

Includes macros for automatic processing of many different data types and experiments, including

1

H,

13

C, DEPT, HETCOR, COSY, and more

Great for inexperienced users

Clean, dry air from AS-1 Air Supply

Keeps spin speeds up by slowing oxidation on important probe parts

Fresh, lively appearance

Extended warranty including one year of remote support
Additional Benefits
Once all the upgrade work is complete, an Anasazi engineer will personally deliver the new system to the user's lab and train all instrument users. 
Also available is the option for a remote training session on a later date. 
Please call us at 866-494-9369 with further questions.