Upgrades Ensure your EFT-60 / EFT-90 / EM-360/ EM-390 NMR Spectrometer Performs Like New--or Better
At Anasazi Instruments, we want to help our users maximize the use of their NMR spectrometers, so we offer a variety of upgrade options to augment instrument performance.

 

College chemistry departments and industrial quality control departments alike can benefit from the available upgrades which include:
SC-1 Autosampler

AS-1 Air Supply

USB Interface

PNMR Touch Software Upgrade

Power Supply Upgrade

Data Station Upgrade

NUTS Upgrade

Upgrade from EFT-60 to EFT-90

Refresh Program
SC-1 Autosampler
Our SC-1 Autosampler is a great upgrade for laboratories who want to minimize down time.  Using a modified version of PNMR, users can program a sequence of up to 36 samples to be run automatically.  For each sample in the queue, users may program a subsequence of experiments to be run sequentially before the next sample change occurs.  All that is needed of the user is to load the sample rack, program the robot, and begin.  The whole sequence will complete itself unattended, allowing lab workers to focus on other tasks while the system acquires data.  The  SC-1 Autosampler controls sample ejection and spin by directly controlling our unique AS-1 Air Supply.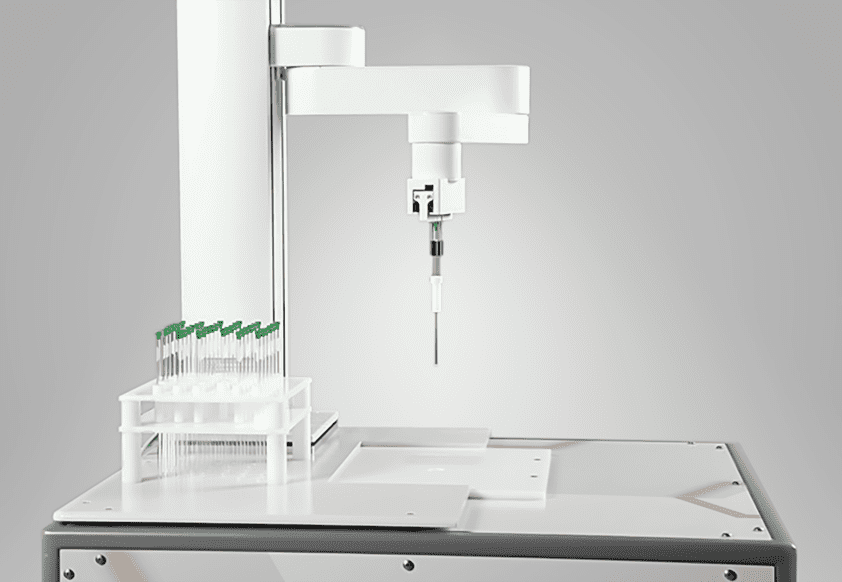 AS-1 Air Supply
The AS-1 Air Supply is an ultra quiet, reliable, electronically controlled air source capable of precision air flow control.  It is a great option for those who have unreliable house air or whose lab is located in an area with a humid climate.  One helpful feature of this air source is that there are no internal filters to be changed, unlike our older air source model.  Many users with our old air source do upgrade to the AS-1 due to its smaller size, quieter operation and low maintenance requirements.
USB Interface Upgrade
The USB Interface upgrade, required for newer computers that don't use PCI cards, replaces the original ribbon interface and is compatible with any Windows computer (32-64 bit).  Since newer computers come configured for USB inputs rather than PCI inputs, the USB Interface upgrade affords users the option for a newer computer should they desire.  The upgrade also comes with the newest version of our data acquisition software, PNMR.
PNMR Touch Software Upgrade
The newest version of PNMR features an intuitive Graphical User Interface and is compatible with touch-screen devices.  The new interface includes one-touch experiments for intuitive operation and easy training, benefitting both students and instructors.  PNMR affords users fast data acquisition and includes more efficient shimming algorithms that sharpen peaks and suppress spinning sidebands faster than ever before.  PNMR also contains a large library of pulse programs, some of which have been rewritten from the familiar previous versions for faster data acquisition.  To save on labor and shipping costs and as a preventive measure, many users opt for our recommended Power Supply Upgrade in tandem with the USB Interface and PNMR upgrades.
Power Supply Upgrade
Our power supply upgrade includes the latest power supply technology available.  The new power supply contains a different power supply for each voltage, each one with its own power indication light visible on the front panel.  Every upgraded spectrometer undergoes a full system check by an Anasazi engineer who sets up the spectrometer on an in-house magnet, checks it for all functionality, and optimizes its settings for ideal user experience upon return.
Data Station Upgrade
We have found that many university I.T. departments require for security purposes that all network computers run on Windows 10.  To provide an avenue to keep our users' instruments online, we do sell a data station and monitor upgrade.  Each computer we sell is manually configured and checked for functionality by an Anasazi engineer.  Because new computers interface with our spectrometers only through USB connections, the USB Interface upgrade is required with a new data station, so many users will upgrade both at the same time..  When both of these upgrades are performed simultaneously, an Anasazi engineer fully configures and optimizes both the computer and the spectrometer.  Because of this in-house configuration, users can resume instrument use in a few short steps—it's almost as simple as "plug in and go."  The data station upgrade includes not only the newest version of PNMR, but also the newest version of NUTS, our data processing software.
NUTS Upgrade
Our newest version of NUTS integrates tightly with PNMR and incorporates macros for automatic processing of many experiments, including COSY, DEPT, HETCOR, and BAPR.  The NUTS software upgrade includes a site-license which is helpful to most colleges, allowing for the distribution of the software to faculty, staff, and students, thereby allowing them to process data remotely after acquiring the data at the instrument.  This allows for higher throughput at the instrument computer, giving more students the valuable experience they need at the instrument.  The NUTS software update is also available for purchase by itself.
Upgrade from EFT-60 to EFT-90
We also offer an upgrade from 60 MHz magnets to our 90 MHz magnet.  The stronger magnetic field affords the user a greater signal-to-noise ratio, yielding cleaner spectra in fewer scans, trimming down acquisition times, greatly benefiting users who acquire ¹³C data on dilute samples.  Our EFT-90 also boasts greater peak dispersion over our EFT-60, which helps to resolve more complex chemical structures, particularly for 1H NMR.  The upgrade includes both a new spectrometer and a new data station and monitor, complete with the newest versions of PNMR and NUTS.  Upgrading to a 90 MHz system is a perfect time to opt for our recommended AS-1 air source, but a house air configuration is still available for those who prefer it.
Refresh Program
For our users with older Varian EM-360 magnets, we offer a refresh program.  It works like this:  at our factory, we first set up a refurbished magnet with new air lines, a new magnet temperature controlling unit, and our AS-1 Air Supply.  A new spectrometer complete with our Gen 3 power supply and newest graphic design is configured and optimized for the refurbished magnet, and the full system is checked for all functionality before an engineer personally installs the system, trains all users, and leaves with the old system.  Also included in the refresh is a new data station and monitor, the latest version of PNMR and NUTS included.